M.Becker wrote:
:?: Headspace datum. Does that mean de-rimming leaves the extractor with not enough to hold on to and jerk the cartridge out?
Could be. Depending on the whether there is an existing groove, or if there isn't a groove. Fortunately, the groove can be deepened when designing a new cartridge out of an old one, at the expense of weight and having to make new cases.
Let's look at some:
455 Webley. Rimmed, no groove. Cut a groove, and it becomes the 455 Webley Auto.
45 ACP. Rimless, straight. The headspace is based on the front lip of the case, so dimension L3 is critical. That means that if it's too short on a case, the cartridge will float in the chamber. If it's too long, it won't chamber fully and the handgun may fire without the slide being fully forward in battery. Bad things then occur. Also, if there is a hard crimp between the case and bullet, the lip rolls inward and the cartridge can float in the chamber again.
Then there's everyone's favorite multipurpose round: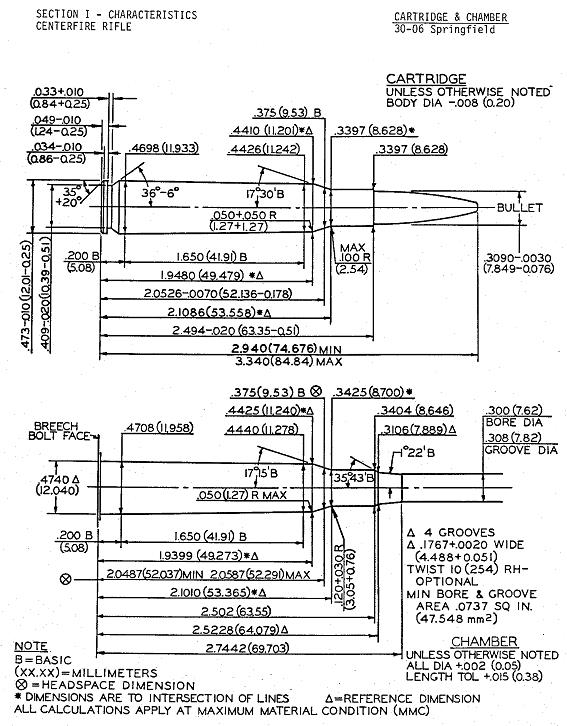 Note that the base is the same diameter as the 45 ACP (actually, vice-versa). There is some taper, but not a lot. That's enough for the case to expand in the chamber and seal when fired, then shrink back for expansion, but not so much that it requires curved magazines. If the chamber gets very dirty or hot, there may start to be problems, though, resulting in the extractor ripping a section of the rim off. Headspace is to the middle of the shoulder, so the round is held firmly in place if the tolerances are close to correct.
Finally, the 7.62x39
Headspace is between L1 and L2. Much more tapered case, meaning that extraction is easier even when dirty or hot. The rim is also much thicker. Requires curved magazines and doesn't stack as well as the straighter walled cases. Smaller case, though, which limits ballistic performance with contemporary powders.